Alla taxichaufförer vi frågade var ense om att bästa utestället i Harbin utan tvekan var Blues (布鲁斯/bùlÇ"sÄ«). Utan närmare research drog vi dit för få uppleva utelivet i Harbin. Klientelet var högst varierande och kvällen bjöd på show av bartendrar, sjungande och dansade ryskor, och kvällens höjdpunkt (mätt i applåder och skrik) var en sjungande och ölhävande kines som fullständigt ägde. En högst surrealistisk kväll.
Recension på Wikitravel (läst dagen efter, min fetstil):
Blue's (布鲁斯酒吧), 100 Diduan Jie (地段街100号). Dirty, crowded, and dangerous. Everything that is Harbin, Russians, Mongolians, Turks, Canadians, Brazilians, Koreans. Frequent staging ground for fights between Koreans and Mongolians or Russians fighting with Russians. The staff has also been known to get involved in fights or start them. Friday nights 10:30PM and afterward get really crazy when about 80% of Harbin's foreign newcomers head out to Blue's to party. Also, at 11PM you can buy a bottle of Vodka for Â¥10, but it is devil water from Anhui has made many people go nuts and dance on the pole for hours. During the week it is full of Chinese.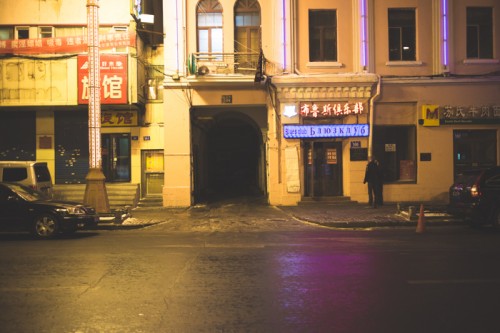 Vi överlevde kvällen.
09 Mar 2013 Jens
One Response to "Harbin kväll 2: Dirty, crowded, and dangerous"
Verkar vara ett mysigt ställe.
Leave a Reply